Accreditations, Performance, and Efficiencies
IntelliHeat products are one of the most advanced electric heating system available in the UK. Whilst there are other distributors importers of electric radiators on the UK market, these products do not compare to the high specification, standards, fully accredited and ultra-efficient IntelliHeat ranges.
Our products are truly unique in the UK market, manufactured and tested to the highest standards. Every electric radiator from our range of products is designed to deliver Efficiency, Control, Comfort and Elegance to its user. Fully accredited to CE Certification*, British Standards, NF *** rated energy Performance accreditation, it also complies to all relevant legislative requirements such as Building Regulations Part L1 and L2 ((Energy efficiency requirements in the Building Regulations), and the new Eco-Design "Lot 20" Directive 2018.
The CE Mark is mandatory for specific products that are sold in the European Economic Area (EEA).The CE mark is a symbol applied to products to indicate their conformity with the essential requirements of the relevant EU directives regarding health and safety or environmental protection. The letters "CE" are an abbreviation which literal meaning is "European Conformity". The CE Mark is mandatory for specific products that are sold in the European Economic Area (EEA).
As overall, INTELLI HEAT legitimate CE-marked product are considered to be with better quality and proven safety than any other bearing a look-alike, not official, fake CE mark (Chinese export), therefore, it's essential to be able to spot the difference between both symbols and stay away from any suspicious products.
Quality guaranteed by the market leader
When buying an electric radiator, it is of fundamental importance to verify the quality of its electronics. Efficient temperature adjustment ensures maximum comfort and energy efficiency, thereby reducing electricity bills whilst also providing users with a healthy, comfortable and accurate heat load specifically when and where they need it.
Accurate temperature adjustment capacity is absolutely essential to managing the system running costs. Indeed the research of the carbon trust has clearly shown that the most effective way to reduce energy waste and the relevant unnecessary consumption, is to ensure exact settings are applied to each area of your home, hence the importance of our high-quality thermostats and programmers.
Trusted and Established
Established for over 18 years in the electric heating industry – we had a vision many years before anyone was really thinking about improving the way we heat our homes and the energy we use to do so! This led to the creation of the thermodynamic fluid-filled electric radiator and the Smart Home wireless controller in early 2000. Our priority right from day one was to take back command of our heating systems control, we knew the solution existed and we applied all our efforts into delivering it to our customers. Advanced Electric Central Heating Systems Since 2001, Intelli Heat is a UK based company supplying superior quality stylish products and innovative technology, with features and designs developed by and unique to Intelli Heat.
Our emphasis is on energy efficiency and environmental issues, and being far removed from inflexible outdated storage heater systems and inefficient panel heaters. Intelli Heat developed, built and patented an efficient electric radiator that could be monitored and controlled independently in 2002! We continue to be at the cutting edge of pioneering electric heating systems to this day, designing and developing new efficient products to help us save money, manage our homes more efficiently, and contribute to reducing emissions by reducing consumption!
Reliability
Intelli Heat products are all class 2 rated (this is the best and unlike many other competitors), and comply fully with UK building regulations. They are also all made in one factory and carry an industry-leading 5 years no quibbles guarantee. Our Electric Heating Systems are built to last, with an electronic tolerance of 25% means that the components value may be anything between the nominal value -25% and the nominal value +25% VOLTS.
Fast Delivery
Most of our heating & Home Automation products are always in stock so they are available for fast delivery, dispatched directly from our warehouse within 48 hours. If in the unlikely event a product is not available at the time of order, we will let you know straight away and aim to have it in stock within 2 weeks. If you require a specific delivery date, let us know and we'll do our best to accommodate this.
Our Values
Care
We aim to consistently deliver a professional service to our customers. Our team of highly qualified technical advisors and engineers provide a knowledgeable, caring and professional service.
At Intelli Heat, we are always at the forefront of technology and innovation and are committed to offering you the best advice, service and environmentally friendly heating solutions available on the UK market. Please read our reviews for recent customer feedback on our services and our systems.
Advice
We are passionate about electric heating, it is this real passion that has led to our amazing product ranges, designing and developing solutions years ahead of the competition, and always guided by our four key priorities: Efficiency, Comfort, Control, and Elegance.
As such we are always keen to share this passion and our expert advice with you, whether your queries are complicated or straightforward. We can advise on your heating requirements for domestic, business, housing or commercial premises, giving you practical and honest advice based on our own extensive experience.
Quality
Intelli Heat products are thoroughly tested and evaluated by our Technical Department before shipping so you can be confident that you are getting the best quality.
We work closely with the design and manufacturing process to ensure our products are not only beautifully designed in Italy but also use only superior components. We use the leading component manufacturer in Europe, Zoppas. Our ranges have been designed, developed and manufactured based on quality, functionality, and durability. We innovate and we care.
Value
Value for Money
Do you want the highest quality system with the best value for money? All our products are designed and manufactured to an exceptionally high standard, with uncompromising attention to detail, using only the highest quality components that are each build to last.
Our electric radiators are 100% aluminium unlike cheaper products on the market and carry longer guarantees. They are also designed by top designers in Italy and manufactured there too to create a beautifully finished product. We are 100% confident that our heating products are both the best quality, and the best value for money available on the UK market.
Ethical
Sustainable and Ethical Products
This may be last on this list, but it is at the forefront of our minds and our ethos at Intelli Heat. All of our electric radiators are produced in Italy using recycled aluminium from sustainable sources, so you can keep warm, safe in the knowledge that your system has been produced in the most environmentally responsible manner.
Furthermore, through our ultra-efficient systems, you are both saving money and helping to reduce energy wastage! Our products are also all ethically produced and manufactured in Italy, where the welfare of the workers is paramount to the production process. We care and we act!
INTELLI HEAT is hosted green!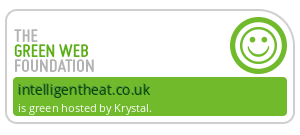 ---
Heating Plan Calculations
Our day begins at 6.30am with our experienced technical manager designing heating plans for client surveys carried out by our team of qualified installers across the UK.
Each heating plan calculates the precise radiator size for each room with your warmth and comfort, as well as your lowest possible energy consumption – all worked out for you.
Deliveries and Orders
Deliveries arrive at our warehouse on a daily basis, our warehouse team takes great care with each unit both in stock and when preparing the days outgoing orders. Vans are loaded and set off to deliver to our UK wide team of installers whilst other orders are processed for dispatch first thing the following morning.
Full Technical Support Services
A technical manager and product specialist are on hand all day, answering inquiries about the radiant heat method, thermodynamic radiator design, and specific range functionality, inbuilt programmer functions and wider control systems including the phone, tablet, iPad or Laptop based smart home, Mysense wifi functionality.
Trained and Accredited Installers
Late in the afternoon, reports arrive from our Installers that today's installations are completed to plan, with the customers now warm and cozy, after full instruction on how to programme each radiator for their needs.
SaveSave